Vastu & Jataka Dosha Nivarana Yantram's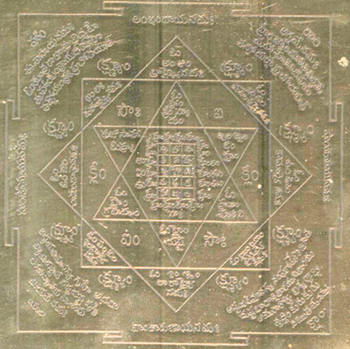 Yantra sastram is a subdivision of Tantrika Astrology.
These spelling are called as Bheejaksharam's.
These Bheejaksharam's are activated by certain mantra pooja's before delivering to the needed person.
Here, we are presenting some important Yantrams and their uses
Sree Maha Lakshmi Yantram:
It contains Bheejaksharam's for Dhana Lakshmi, Dhanya Lakshmi, Santana Lakshmi, Dhairya Lakshmi, Vijaya Lakshmi, Soubhagya Lakshmi and Gaja Lakshmi (Amrutha Lakshmi). Installing this Yantram in pooja room gives wealth to the family and reduces financial loses.
Naraghosha Nivarana Yantram:
It removes all bad affects caused due to Nara Ghosha. This Yantra can be installed at main doors of newly built houses and offices.
Matsya Yantram:
It is the best remedy for minor vastu doshams present in house. This yantram's Bheejaksharam's are derived from Matsya Puranam. It enhances family member's inner energy levels and helps in establishing overall well being. 
Sreechakra Yantram:
This Yantra Bheejaksharam's were delivered by Sri Adi Shankaracharya. It removes all kind of negative energies around the house. It can be installed during sankhustapana or in pooja room.
Kubera Yantram:
Bheejaksharam's present over this Yantra reduces financial troubles. It helps in loan recovery and keeps money in the family. It is to be installed in pooja room.
Navagraha Yantram's":
These are Yantrams to reduce bad effects caused by navagrahams. These Yantrams are suggested according to the planetary position situated in a person's janma kundali. These Yantrams has to be installed in pooja room.
Kuja Dosha Nivarana Yantram:
It is used to reduce kuja dosha effect over a person. It helps in match settlement and prevents matrimonial issues which are caused due to kuja dosham. This Yantram should be placed in pooja room and daily pooja has to be done by needed person.
Shani Dosha Nivarana Yantram:
Bheejaksharam's present over this Yantram helps a person to overcome Elinati Shani Dasa bad effects. It is also effective in ardha ashtama shani dasa period and ashtama shani dasa period. It has to be installed in pooja room along with chanting of shani graha kavacha chanting.
Kaala Sarpa Dosha Nivarana Yantram:
As the name indicates, this Yantram is for persons who are getting very bad effects due to presence of Kaala Sarpa dosham in their jatakam. It is advised if Sarpa dosham is present for more than two persons within a family.
Maha Vaastu Yantrams set:
These are fundamental Yantrams, which should be placed during sankhustapana of any type of construction. This set consists of Matsya Yantram, Kurma Yantram, Sree Yantram and Vastu Yantram. These Yantrams should be installed under main pillar of the construction or in soil in north east corner of the house along with Nava Dhanya.
Dhanakarshana Yantram:
It is also called as Vyapara Abhivrudhi Yantram. It helps in business development and keeps money inflow.  It should be placed in commercial areas or offices.
Mrutyunjaya Yantram:
It is suggested when chronic health issues are present in the family. It helps in increase of life longevity of family members who are severely sick. It has to be installed in pooja room are required Mrutyunjaya mantra chanting daily.