Mithuna Rasi / Gemini Sign Nature - Character
మిధున రాశి వివరములు - లక్షణాలు - స్వభావం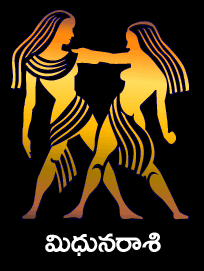 Persons born in Mrigasira 3rd and 4th charanams, Arudra 1st, 2nd, 3rd, 4th charanams and Punarvasu 1st, 2nd, 3rd charanas comes under Gemini sign or Midhuna raasi.
Lord of this sign or raasi is MERCURY.  
This sign indicates twins. So that persons of this sign or raasi exhibits two kinds of individualities, attitudes and thoughts.
They show less concentration. They usually leave works before they are finished.
They can easily change their occupation, house and love.
They can adjust well to the changed environment.
Most of the persons of this sign or raasi are artists or person's with artistic abilities.
They love traveling. They don't want to stay at a place for long time.
They usually have broad fore head, short body.
They have very good thinking power.
They are very talkative and have command over many issues.
They can do more than two works at a time. They don't know what tiredness is.
They always desire to earn money, fame and status.
They won't satisfy with what they achieved. They deserves more and more.
Usually they are very good at business.
They should take rest as their mind works without knowing themselves.
Usually they have black eyes, wrinkled hair. Usually they are 5.4 feet.
They are very interested in women matters.
They can easily estimate others state of mind. They are good mind readers. Some of them become astrologers.
They have lot of fame and name in society.
They are very proud about their knowledge.
They don't like to have old articles with them and tries to have new ones.
We can provide your complete horoscope as a manually written "Horoscope Prediction Book". It's not a computerized print out. It will be prepared & written manually by sri Sidhanthi garu. Contact us to get your personalised jataka reports, palmistry reports, vastu reports, match compatibility reports, new borns reports, subha muhurtams etc. We also suggest & perform astrological remedies for your problems caused by various jataka doshams. Click Here to contact oursubhakaryam.com for your all astrological needs and suggestions.
© All rights reserved with oursubhakaryam.com.