Karkataka Rasi / Cancer Sign Nature - Character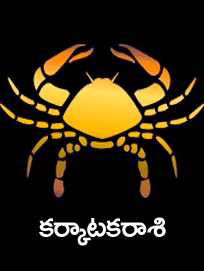 Persons born in Punarvasu 4th charana, Pushyami 1st, 2nd, 3rd, 4th charanams & Aslesha 1st, 2nd, 3rd, 4th charanams comes under Cancer sign or Karkataka raasi.
Lord of this sign or raasi is MOON.
Persons born in this sign or raasi are very sensitive and calm going.
They are very polite to others.
They will give much impotence to relations. They always make others happy and try to create favorable environment.
They are very conservative in financial matters and at the same time most honest.
They fear about future which makes them to save money.
They don't mind problems created by others to them for long time. They will excuse them easily.
They are very good speakers. Some of them enter into politics.
They won't exhibit their inner mind in front of others.
Their friend circle is very large and usually they love water games.
They are very sensitive minded. They are courageous hard workers. They are reliable persons.
They like arts and skills.
They will have more daughters than sons.
They are very good at hospitality.
They are restless and their gratitude levels are high.
We can provide your complete horoscope as a manually written "Horoscope Prediction Book". It's not a computerized print out. It will be prepared & written manually by sri Sidhanthi garu and along with this report you will have phone conversation with sri sidhanthi garu.
You can also contact us for palmistry reports, for vaastu reports, for match compatibility reports, for subha muhurtams. We will also suggest & perform astrological remedies for your problems due to various jataka doshams. Please Contact us for your all astrological needs and suggestions...
©2008-2016 All rights reserved with oursubhakaryam.com.